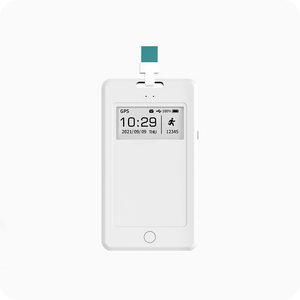 Key Features
●

Accurate Positioning


●

Long Battery Life


●

Low Power Consumption


●

Hybrid Indoor and Outdoor Positioning


Description
UbiTrack-TUG2 is a Hybrid UWB-GNSS positioning tag. It integrates UWB positioning and GPS satellite positioning. It can switch between UWB positioning and GPS satellite positioning to ensure accurate and reliable positioning between indoor and outdoor. This tag meets the requirements of full scene positioning.
Use Case Scenarios
Warehousing
Logistics
Factory area
Appearance & Dimensions
Specifications
Positioning Mode: UWB+GPS
UWB Operating Frequency: 3.5GHz-6.5GHz
UWB Transmitting Power: 0-33.5dB(Adjustable)
Power Supply: Rechargeable 950mAh lithium battery
Battery Life: 1 week(5min Positioning Frequency)
Operating Temperature: 0°C~50°C,Avoid direct sunlight on the display screen for a long time
Operating Humidity: 35%~ 65%RH
Dimensions: 4.92"×2.76"×0.27"(125mmx70mmx6.9mm)
E-Ink Screen: 1.91"×0.93"(48.55mmx23.71mm)
GPS Transmitting Power: GPS L1
NFC Operating Frequency:13. 56MHz
Additional Sensors: Acceleration Sensor
Optional Functions: vibration or voice, SOS,etc.
SIM Operating Frequency: LTE (Cat-M1: B1,B2,B3,B4,
B5,B8,B12,B13,B14,B17,B18,B19,B20,B25,B26,B28,B66;
Cat-NB1/NB2: B1,B2,B3,B4,B5,B8,B12,B13,B17,B19,B20,
B25,B26,B28,B66)